Product Detail
FAQ
Specification
Product Tags
1.Product Detail
1-1 Quick Details
Condition:New

Type: Injection Molding

Style: Horizontal

Brand Name: UKD

Model Number:ZX-260

Place of Origin:Zhejiang, China (Mainland)

Plastic Type: Thermoplastic

Automatic: Yes

Injection Weight: 490-700g

Injection Rate: 55-91g/s

Clamping Force: 2600KN

Opening Stroke: 550mm

Power(KW): 22

Certification: CE ISO9001

After-sales Service Provided: Engineers available to service machinery overseas

Voltage: 380V/ 50Hz 3P+N+E (alterable)

Machine weight: 8.5 ton

Screw Diameter: 50-60mm

Machine dimension(L*W*H): 6*1.4*2.1m

Warranty: 1 Years
1-2 Packaging & Delivery
Packaging Details:

WOOD BOTTOM PACKAGE WITH ANTI-WATER FLIM AND

PLASTIC BAGS

Delivery Detail

30~60 days
1-3 PET Professional Machinery
1.Screw designed according to PET material's characteristics, breakthrough improvement on the defects of bubble, flow mark, white patch , yellowing, etc, products quality highly improved.
2. Increased plasticizing capacity, wonderful plasticization, preform color more uniform, production more stable.
3. Machine's structure and spare parts optimized according to preform characteristics, product quality and efficiency is higher.
4. Increased ejection force fit for ejecting multi cavity preform.
5. Double-loop system can be for option, come true the simultaneous movement, production efficiency highly improved; At the same time, higher filling speed ensure products' internal stress reduced obviously, product quality higher.
6. Can option complete auxiliaries, such as: Dehumidified, Hopper dryer, Auto loader, Hot runner, Mold, Chiller etc.
7. Post-Mold Cooling (PMC) is available, production capacity can be highly improved (maximum 35% higher), lessened scratch from ejection, and risk-free from clamping against inefficient ejection.
-小标题:Small Injection molding machine ZX-260
1.产品描述: Product Description
标准装备 Standard Equipment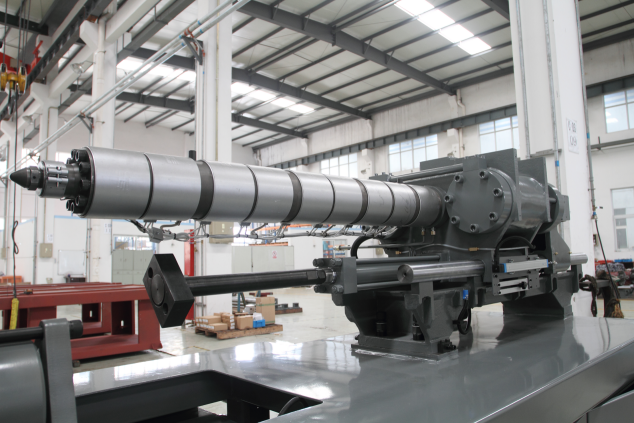 注塑装置 Injection unit
| | |
| --- | --- |
| PET专用螺杆 | PET special screw and barrel design |
| 双杠平衡注射系统 | Double-cylinder balanced injection system |
| 单杠座台进移 | Single-cylinder forwarder |
| 料筒保护罩 | Barrel protection cover |
| 射胶/保压/溶胶设定 | Injection/holding/plasticizing setting |
| 螺杆放冷启动 | Screw cold start-up prevention |
| 防流延功能 | Drooling prevention function |
| 防滑花纹铝盖板 | Injection unit anti-slip aluminum cover |
| 自动清料功能 | Automatic purging function |
| 射胶故障自动检测 | Automatic detection of injection failure |
| 注射位置检测功能 | Injection cushion position monitoring function |
| 储料背压调节功能 | Screw plasticizing back pressure control function |
| 螺杆驱动液压马达 | Screw-driven hydraulic motor |
| 注射速度,压力控制装置 | Injection speed,pressure control device |
| | |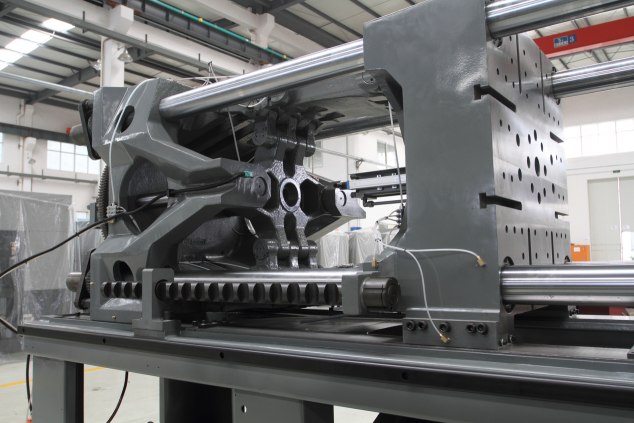 锁模装置 Clamping unit
| | |
| --- | --- |
| 自动集中润滑系统 | Automatic centralized lubrication system |
| 特快锁模功能 | High speed clamping function |
| 多种顶针功能方式选择 | Multi stage,multi function hydraulic ejection control |
| 抽芯动方式选择 | Core puller operating mold |
| 低压模具保护装置 | Low pressure mold protection device |
| 开关模刹车装置 | Mechanical positive mold open position device |
| 可调节式动模板支撑结构 | Supported structure of the adjustable and movable device |
| 液压马达驱动调节装置 | Hydraulic motor drive mold adjustment device |
| 开关模,顶出位置控制 | Open/close mold ejection position foot control |
| T型槽模板(400T以下) | T-slot platen (≤400T) |
| 机械安全装置 | Mechanical safely device |
| 强化处理动模板移动耐磨轨道 | Strengthen treatment of the linear motion |
| | |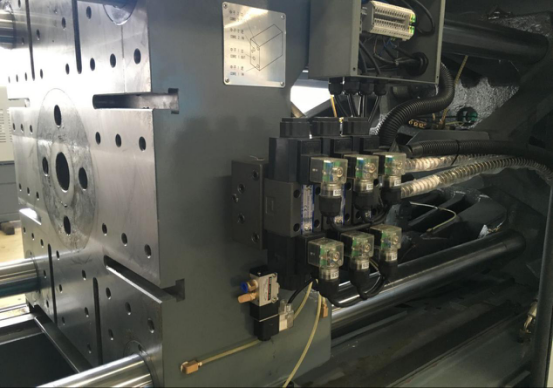 液压装置 Hydraulic unit
| | |
| --- | --- |
| 高性能伺服系统 | High quality servo system |
| 低噪音液压控制系统 | Low-noise hydraulic control system |
| 邮箱液位计 | Oil level display of oil tank |
| 液压油冷却装置 | Oil cooler water temperature control valce |
| 高性能精密滤油装置 | High precision filter |
| 电磁阀 | Solenoid valve |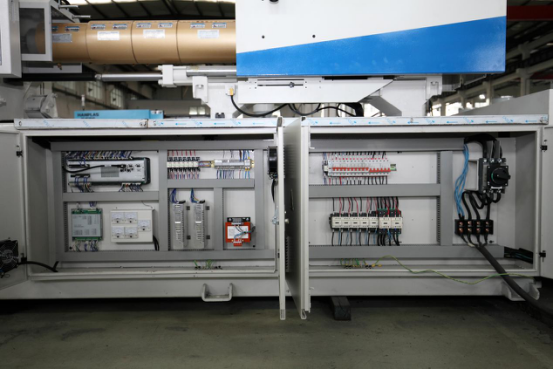 电控装置 Electric unit
| | |
| --- | --- |
| 异常原因显示功能 | Abnormal display function |
| 紧急停止保护装置 | Emergency stop protection |
| 温度偏差显示 | Temperature deviation display |
| 点击安全保护装置 | Motor safety protection device |
| 外供预留电源插头 | Outer providing and reserving power pluge |
| 电气硬件连锁保护功能 | Electrical hardware chain protect function |
| 生产周期计数 | Production counter |
| 异常运作警报灯 | Abnormal operation alarm light |
| 数据锁定功能 | Date locking function |
| 多种语言显示 | Multi-language display |
| 最高压力限制功能 | Max. pressure limited function |
| 中断功能 | Interrupt circuit |
| 料筒自动加温装置 | Automatic barrel heat-up control device |
| PID温度控制器 | PID temperature controller |
其他 General
| | |
| --- | --- |
| 标准颜色 | standard color |
| 封闭式保护门设计 | Enclosure safety door design |
| 可调防震垫脚 | Adjustable machine leveling device |
| 附件箱 | Stander accessories |
| 常用工具 | Professional tools |
| 普通料斗 | Stander material hopper |
| 易损备件 | Easily damaged spare parts |
2:参数 Specification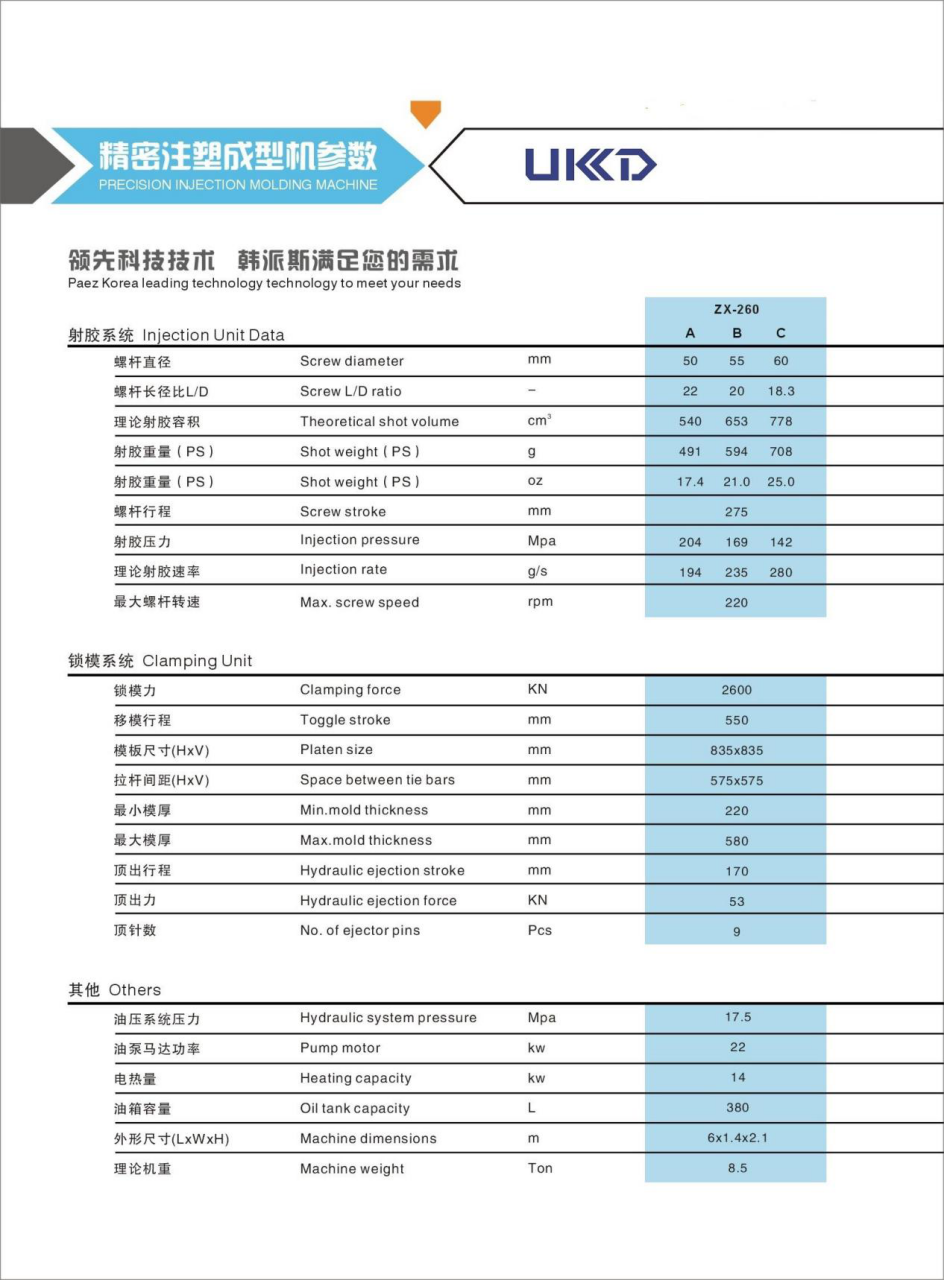 3.选购装置 Optional equipment
| | |
| --- | --- |
| 加长射嘴 | Extended nozzle |
| 弹弓射嘴 | Spring shot-out nozzle |
| 油压封嘴 | Hydraulic shot-out nozzle |
| 混炼头加强混色效果 | Static mixer for color mixing |
| 特殊原料专用螺杆 | Specialized screw for the special materials |
| 多组吹气阀 | Multiple blow valve |
| 多组抽芯装置 | Multiple core puller device |
| 电磁感应加热装置 | Induction heater system |
| 加大预塑马达 | Increase pre-injection motor |
| 铰牙装置 | Unscrewing device |
| 料筒吹风装置 | Barrel blowing device |
| 增加容模量 | Increase mould height capacity |
| 回油过滤系统 | Return line filtration system |
| 机械手 | Robot |
| 自动上料机 | Auto loader |
| 干燥料斗 | Hopper dryer |
| 除湿机 | Hopper magnet |
| 三相电子式电能表 | Three-phaonic watt-hour meter |
| 模具温度控制器 | Mold temperature controller |
| 高性能变量泵系统 | High-preformance variable pump system |
| 高性能节能伺服系统 | High-preformance and energy-saving servo system |
| 模板隔热板 | Insulation platen |
| 玻璃管冷却流量器 | Glass tube cooling folwmefer/ Glass pipe cooling flow measure |
| 磁力架 | Magnetic frame |
| 模具压板 | Mold clam |
| 液压安全保护 | Hydraulic safety protection |
| 比例背压 | Proportional valve back pressure |
| 油压偏差报警功能 | Oil temperature upper lower limit alarm |
| 自动调节功能 | Auto-mode function |
| | |
Previous:
UPVC zx-220s
Next:
UPVC zx-350s
Send your message to us: